How to Evaluate a Used Musical Instrument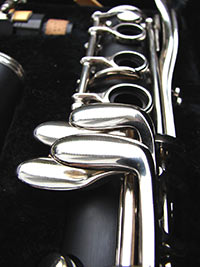 Music education can be expensive. New instruments can cost anywhere from $150 up to over $2,000, depending on the type and quality of instrument your child needs. To make matters worse, those low-end 'affordable' instruments are often of such poor quality that it winds up detracting from your child's education. It becomes a source of discouragement, rather than an opportunity for growth and success.
Fortunately, there are many used instruments on the market that you can consider. For less than half of the cost of new, your child can be playing a much better quality, gently-used instrument.
But how do you know if it's gently-used, or if it's in good repair? Here are some steps to evaluate the condition of a used instrument:
Understand what can go wrong. Spend a little bit of time reading about the potential problems of the instrument your child plays or wants to play. For example, used guitars can wind up with a warped neck. Used brass instruments can wind up with bent slides or broken valves. Some of these problems are very fixable, and some aren't. Know how to recognize one from the other by doing some research.

Ask lots of questions. If you're buying the used instrument from a private individual, feel free to ask about the instrument's history. Ask whether the owner performed routine maintenance tasks, how long the instrument has been in storage, and whether there have ever been any major repairs. If you're buying the instrument from a dealer or second-hand store, they may not always have this information. However, they may be able to tell you what repairs they may have made to make it sale-ready.

Physically inspect the instrument. If at all possible, look at the instrument. While you may not be able to diagnose problems with a single look, you can certainly get a feel for how the instrument has been treated. If it's tarnished and dented, you can be fairly sure that the instrument was neglected and that it wasn't well-maintained. Check all of the valves and keys to make sure they seem to be moving in working order. Sticky valves or keys should be an immediate warning flag that there could be more severe problems with the instrument.

Be wary of having an instrument repair specialist view the instrument. It's not that the instrument repair specialist is going to be dishonest with you. But what often happens is that they identify areas that the instrument could be improved, but that don't necessarily affect its sound or playability. If you bring in someone to look at the instrument for you, make sure to take their advice under consideration, but ask important questions about how much it will cost to repair, as well as what the instrument will be like if it is not repaired.

Play it. If possible, bring your own mouthpiece or reed (assuming you are looking at a brass or woodwind instrument). You'll want to see if there are obvious intonation problems or if there are mechanical problems that keep the instrument from sounding right. 30 seconds playing an instrument can often tell you more about its condition than 10 minutes of staring at it.

Make sure you get some kind of warranty. While private sellers aren't going to warranty a used musical instrument for 30 days, you can usually get them to agree to a 24-hour return policy. In fact, in some states, there are laws that insist that someone must refund your money if you make a purchase and don't like the item within 24 hours. (Check your local and state laws, of course, as these can vary greatly from one place to the next.) If you're buying from a store, ask about extending the warranty a little bit beyond what they already offer. Chances are that if something's wrong with the instrument, you'll notice it within the first couple of weeks of use.
Used instruments can be a great way to try something new without breaking the bank. Just be careful - follow these tips each time you evaluate a used instrument and you'll be protecting yourself and your wallet.
Suzy St. George is a blog writer at TakeLessons. Since 2006, TakeLessons has provided safe, affordable and fun singing and music lessons to students of all ages. Students can find music teachers in over 2,800 cities nationwide, for subjects such as singing, guitar, drums, piano and more.